Southsea Deckchairs News
---
17th December 2014
Merry Christmas from Southsea Deckchairs!
We would like to wish all of you lovely people a very Merry Christmas from all of us at Southsea Deckchairs! We hope you managed to get your orders through in time to ensure that everyone has a very lovely Christmas break. We will be open again from the 5th of January 2015, and look forward to hearing from you then!
---
26th November 2014
Visit from Southampton Solent University
The talented Interior Design Decoration Students at Southampton Solent University visited us earlier this month! We are really excited to be working together with this amazinf bunch of people. Keep your eyes peeled for some developments on this in January!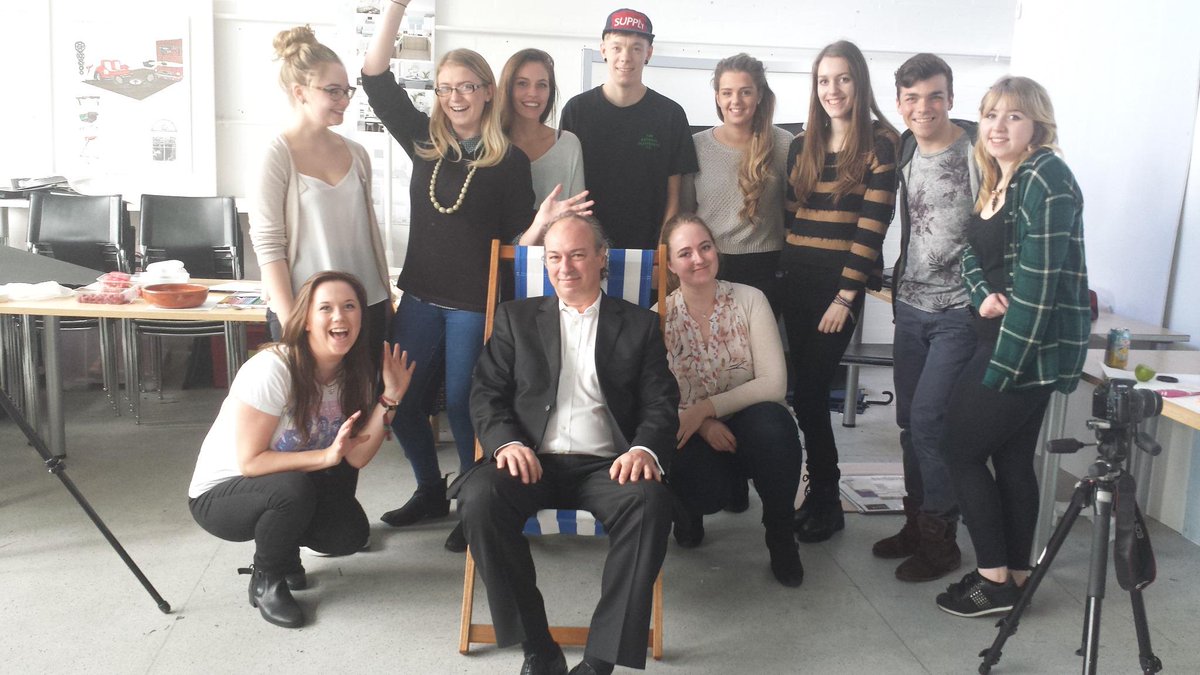 ---
19th November 2014
New Distributor: Scandinavia
We are very happy to announce that we have a new distributor in Scandinavia! Fluktstol is a lovely shop for deck chairs and related products, that is based in Norway. An interesting little fact, "Fluktstol" literally translates from Norwegian to 'Deck Chair' in English. Fluktstol, and us here at Southsea Deckchairs, appreciate that the Deckchair is a real classic, and should be able to be enjoyed all around the globe!
Like them on Facebook:
5th November 2014
Keeping you updated!
You might think there would be little call for Deckchairs in the colder months, but you would be mistaken. We have been busy in the office taking orders from various events, companies and individuals located all around the world. Below is a image one of our customers in Sweden sent us.
If you would be interested in having any of our products shipped internationally, just email us with your delivery address and order content.
If that wasn't enough, one of our Red & White printed cotton windbreaks has appeared in a photoshoot for Skoda. We absolutely love this photo and think it captures the great British seaside perfectly.
We would also like to wish all of you a wonderful Bonfire Night, and would love to receive any pictures of your Southsea Deckchairs enjoying the fireworks!
Send your images or shipping enquiries to: sian@deckchairs.co.uk
9th September 2014
Review: Bespoke Slings
For those who are unaware, we provide a service that produces bespoke slings for your existing chairs! If you are interested in a Bespoke sling, then it is best if you post us the existing slings of one of your chairs. This will allow us create a replacement that is as close to the original as possible.
To make an enquiry, simply email: info@deckchairs.co.uk
"To all at Southsea Deckchairs,
We brought a high quality set of patio furniture with us from America several years ago. This included six chairs and two sun loungers. As happens, the material rotted in time and needed to be replaced. We spent a lot of time trying to find a service to replace them, but without success - until we came across Southsea Deckchairs. Having found them, the staff quickly helped us determine what fabrics were available. They then ensured we understood how to get the old covers removed and shipped so that new, bespoke covers could be made that would fit our chairs exactly. They supplied fabric swatches to help us make our choice and them were very prompt in manufacturing the new covers and shipping them to us. They ensure that we also got back the items that we had sent it - this was crucial for us to be able to fit the new covers into our chairs.
All of this was done in a very short period of time and at a very fair price indeed. We couldn't have done this without the great help and fantastic communication we received from Sian and all the team, so thank you all very much. Once I've finished repainting the frames and refitting the covers, it will be like having a brand new garden furniture suite!
Thank you so much for simply excellent service, it's very much appreciated
Pete & Sue S., Somerset"
---
19th of August 2014
Reuters Filming: "Deckchair Maker's Life Beyond the Beach"
First to film us was Reuters (an international news agency), who came to see the chairs being produced. The film focused on how soaring summer temperatures are swelling orders here, focusing on how we are Britain's only deckchair manufacturer. Generally, emphasis is placed on how we have branched out into fashion export.
In the video, Stephen Davies (the founder of Southsea Deckchairs) states:
"Things move on. That's how it used to be but as a company we've adapted to that gradually over the years and as one market declines news ones have sprung up. I think it's just a question of identifying and finding out what they are."
Reuters Interviewed Stephen on the founding of Southsea Deckchairs in the early 80's. Back then there were just four patterns to choose from. And they turned out 100 chairs a year. Today there we have over 200 different designs, producing more than 10,000 chairs. A sunny summer has helped boost sales. So does an online presence. But the real transformation has come from collaborations with some of the UK's best-loved brands. Fred Perry, Clarks shoes and London department store Liberty have all worked with Southsea. Reuters concludes with how we have turned some of the most iconic patterns into fashion favourites.
---
9th December 2013
Christmas 2013 - Last Order Dates
Just so you know - our final dispatch date is Tuesday 17th December, so all orders need to be made by Midday on 16th December. This is because we close for the Christmas Break on Friday 20th December and want to ensure all outstanding orders are delivered by our couriers to you successfully by then....so you don't have to fret on undelivered gifts!
If you have any queries, then just give us a call on 023 9265 2865 and we'll be happy to help.
---
22nd August 2013
"Sit To Make A Stand" World Land Trust Deckchairs have gone VIRAL!
Whilst we've been busy with the Summer of 2013, the range of "Sit To Make a Stand" deckchairs (our collaboration with the World Land Trust & Winchester School of Art) has been taking the internet by storm! Below are some of the sites the've been featured on, in addition the the House & Garden and Telegraph features earlier in the year:

Financial Times "How To Spend It" Magazine
Concerto Group: The Style List
http://ilovebonniewright.tumblr.com/
You can see the whole range of designs right here in our Deckchair Boutique - and remember that when you buy one, each deckchair sold will enable World Land Trust to purchase and protect half an acre of threatened habitat forever.

---
---
4th August 2013
Looking relaxed in The Regent's Park....
You may or may not know, but we've been proudly supplying The Royal Parks with deckchairs for many years. So, when you hire a chair in one of these beautiful parks, you can be safe in the knowledge it's a hardwood Southsea Deckchair that won't let you down. Alternatively, if you buy from us for your home or business, you can also be assured that our products meet the standards and longevity required for these sites.
If you see one of our deckchairs out and about (they've either got a Southsea Deckchairs brand or sticker on the bottom back bar) then we'd love to see them too - please tweet them at us @SouthseaDeck, post on our Facebook page or email them to info@deckchairs.co.uk!
---
---
15th May 2013
Sit To Make A Stand - The World Land Trust Deckchair Collection
Canvas by Shahnaz Nazimuddeen. See the whole range at House & Garden.
International conservation charity, World Land Trust has produced a deckchair collection in collaboration with University of Southampton's Winchester School of Art and Southsea Deckchairs. Each deckchair sold will enable World Land Trust to purchase and protect half an acre of threatened habitat forever.
The Sit to Make a Stand Collection of five designs, inspired by the Trust's international conservation work, encourages people to take direct action for the environment. The collaboration will raise funds to save critically threatened tropical forests and the animals that depend upon them through the Trusts, Buy an Acre programme.

At times the rate at which the natural environment is being lost can seem unstoppable. But small gestures can achieve great things, and we don't all have to be on the front line when it comes to saving the rainforest. The Sit to Make a Stand Collection is designed for the armchair activist who can relax in the sun, comfortable in the knowledge that each deckchair represents half an acre of biodiversity saved for ever.
Each deckchair represents one of five key World Land Trust projects including: Coral Reefs, designed by Sarah Lewry; Elephants, designed by Jessica Walsh; Orang-utans, designed by Shahnaz Binte Nazimuddeen; Big Cats, designed by Hannah Baker and Parrots, designed by Rachel Iball.
John Burton, CEO of World Land Trust, who pioneered the concept of selling rainforest acres to the public in the late 1980s, is delighted with this initiative saying, "What could be better than relaxing in a deckchair knowing that you have saved half an acre of threatened habitat for wildlife?"
Southsea Deckchairs have expertly produced the five chosen designs using sustainably sourced timber with PEFC accreditation. Deckchairs will go on sale from Summer 2013 at £150, right here at www.deckchairs.co.uk - keep checking back for more information!
---
---
8th January 2013
Cornwall with Caroline Quentin
Make sure you watch the new ITV1 documentary "Cornwall with Caroline Quentin" and see if you can spot
Caroline relaxing in one of our Southsea Deckchairs.
We think Caroline looks great, shown here enjoying the sunshine on Trevone Beach.
The ten-part documentary commences on Monday, 7th January 2013.
---
---
27th June 2012
Our Deckchairs...at the Olympics!
We are delighted to have supplied the deckchairs for the Olympic Deckchairs project, which is part of Weymouth and Portland Borough Council's 2012 Public Art Commissioning Programme, part funded by Arts Council England for London 2012.
Three artists worked with local people to design the canvasses for 500 deckchairs that will be on show on Weymouth Esplanade throughout the Olympic Sailing Events. The pictures above are just a few from the Tumblr Blog set up to document the process of designing the chairs. For more information on the project, visit Arts Council England's website. We think they look great and are proud to be involved - amazing work all!!
---
---

18th June 2012
Ever wondered what happens in our Factory?
Well, we've taken a few shots so you can find out! Below are a small selection of a series we have put on our Facebook page - make sure you go and have a look at the whole set!
Richard fits a sling to one of our Tennis Chairs.
Some branded deckchair slings for the Hay Festival, cut and ready for sewing.
Abdul lays out some freshly sewn slings ready to be fitted to our deckchairs.
---
---

20th May 2012
Ciao da Milano!
These shots are just in from Milan - a range of our chairs are available to buy from ultra-stylish Italian furniture shop De Padova. We think they look great, and it shows that the humble British deckchair looks equally at home both in a swish showroom as it does in your back garden! For a full list of International Stockists, please click here.
---
---

8th May 2012
Exclusive: Our Range of Parasols Now Available!
Don't they look fantastic? Here are some exclusive preview shots from our recent photo shoot down in Old Portsmouth.
We not only have a 2 metre wide stainless steel version parasol with fibre-glass spokes....we also have a laminated bamboo model designed for very high winds, which comes in 2.1 metre square, 2.5 metre round and the daddy of all parasols - 3 metres round!
These will be available to buy on-line soon...however if you call us direct on 023 9265 2865 or email us at info@deckchairs.co.uk and one of our helpful sales team will be more than happy to take your order!
---
---
29th April 2012
Deckchair Fabric - Now for Interiors!
We've always had lots of requests from our customers for interior fabrics with our signature patterns on, so we are pleased to announce a new range especially for this purpose! This high quality 300g/m2 fabric comes in a 180cm width and is suitable for a range of interior applications, such as curtains, tablecloths, and upholstering soft furnishings. Check out what we have to offer over in the online shop.
In addition, we are more than happy to sell our exterior fabrics by the metre - these will be available online soon, but in the mean time please call us on 023 9265 2865 for prices and ordering.
---
---

15th April 2012
A sighting from Down Under!
We just had this sent in to us from Australia - a few of our AC04 Deckchairs and Sturdy Stools in a beach bar! We think they look cracking (and the good people using them look pretty comfy too!). We can ship outside the UK for Trade and Retail - just make sure you drop us a line at info@deckchairs.co.uk to let us get a quote for shipping before you order. In addition, if you are interested in stocking our products in the UK or abroad, just get in touch and we can see what we can do!
---
---

19th March 2012
What's Korean for Deckchair?


Well, according the Google Translate it is 갑판 의자...but you may be asking "Why on earth do the good people of Southsea Deckchairs want to know that?"

The reason is that we are pleased announce a new distributor for the South Korea - and a wide range of our products are now winging their way across the globe. Nick, the owner of Pimlico Online tells us why the quintessential deckchair is now all the rage in the country:
Once upon a time, Koreans struggled to conjure up images of the UK - more often than not when i would ask "What springs to mind when you think of England?", i would get the standard 'fish and chips'or 'miserable weather'. Well, now the tide has changed. I'm proud to say we have the lovely Kate Middleton and the even more attractive range of quality chairs and fabrics from Southsea Deckchairs! We're absolutely delighted to be distributing the Southsea brand here in South Korea and are confident the chairs will be well received. The chairs will be on sale in South Korea at the end of April through Pimlico Online.
www.pimlico.co.kr
Nick is joining our growing list of
Global Retailers
- if you are a business owner who thinks our iconic British products would sell well in your area, get in touch with us today. We look forward to seeing pictures of our new South Korean fans enjoying their deckchairs!
---
---

19th March 2012
Clarks Originals X Southsea Deckchairs Desert Boot



Our exiciting colloboration with Clarks has been creating a few waves on twitter, with some great write ups by HighSnobiety and Strong Island. They are now available to buy online at Clarks Online Store if you fancy a pair yourself. They are strictly limited edition so don't miss out!
---
---

15th February 2012
New for 2012:

Textilene

®

range now available to buy online!



We are delighted to now offer a range Textilene® Deckchairs and Tennis Chairs to buy online. Textilene®, if you have not heard of it before, is made of PVC coated woven polyester non-stretch yarn. It is flame retardant, heat sealable, mildew resistant and stable under either hot or cold temperatures. Or, in other words - it will pretty much stand up to anything you can throw at it.
So, as you can imagine these chairs are perfect for the beach hut, the boat, the sun soaked verandah. It also looks pretty darn stylish too! Click on the chairs above or alternatively go to the Deckchair or Tennis Chair shop and scroll to the bottom of the page to see the full Textilene® range.
---
---

18th November 2011
Deckchair Fabric has many uses....



..but I bet you wouldn't expect this:
Friend of Southsea Deckchairs, Daisy Harris-Burland, recently launched her Dumpster Design label at Highlight in Gunwharf Quays on 10th November. As you can see above, she put her skills to work using a range of our fabrics to make a one off piece for her Dumpster Couture range. As I'm sure you'll agree it looks fantastic! You can see more of her work and contact her here: www.dumpsterdesign.co.uk
---
---

14th September 2011
Tack för din

fina

blogg!

Strange title for some news you may think - but it's actually Swedish "Thankyou for your lovely Blog"! We recently sent a pair of our super spacious Wideboy deckchairs to a customer in Sweden - and she loves them so much she's written a little blog entry about them! We've included a little screengrab below, but you can read the whole thing by clicking here. Even if you aren't fluent in Swedish she has taken some great pictures of the chairs. Thanks again!
---
---

2nd July 2011
Embroidered Logos Now Available
Above you can see an example of a new string to to our branding bow - custom embroidery! This can be applied to the front, back or both sides of the sling. Add a touch of class to any event or location!
As mentioned previously, putting your brand on our deckchairs for use at events and festivals is an effective, high impact way of getting your message across to potential customers. The Branded Deckchair section of our site has many examples of the different work we have done for our customers!
---
29th June 2011
"Naughty-Cool" Deckchair Range Launched
We are pleased to introduce a new range of nautical-themed deckchairs inspired by life at sea. These four bold and striking designs mark the first collaborative output between the pattern makers of Caxton Rhode and craftsmen of Southsea Deckchairs.
Caxton Rhode create traditionally hand crafted patterns and designs using the contemporary tools of today. Creative Director, Rob Bartlett, who is usually found surrounded by more floral arrangements, could not resist the opportunity to partner with Southsea Deckchairs for this playfully original range. Rob comments:
"I approached Stephen & Roma in March of the this year with the idea of creating a fun and and slightly cheeky collection of chairs. Luckily, they loved all of my designs, just as much as I loved the quality and build of their products. It really is an extremely exciting prospect to be working with a Great British maker on such an iconic product."
Each deckchairs combines a dye-sublimated 500g artists canvas (for weather resistance and colour-lasting strength), sewn to a sustainable and durable, teak oil treated hardwood frame. The standard dimensions for each chair is width: 60cm, height: 105.5cm, depth: 102.5cm, seat height: 43cm. Each chair has been lovingly produced in the UK by Southsea Deckchairs in Portsmouth.
To view this exciting new range of chairs, please click here.
---
3rd June 2011
New Range of Products Coming Soon...
In the coming months, we are going to launch an exciting new range of "lifestyle" products for indoors and outdoors, such as parasols, bean bags, interior fabrics, cushions and table linen. These new products will use our trademark deckchair fabric designs.
You can check back here or we can can let you know directly, when these products are available, if you just pop your email address in the box below and click 'Subcribe'. We'll also let you about new fabrics and special offers before anyone else.
---
2nd June 2011
Our Deckchairs at the Hay Festival
We recently completed several orders of branded deckchairs to be used at the Hay Festival of Literature and the Arts. Some examples can be viewed on a video over on The Telegraph's website here.
Putting your brand on our deckchairs for use at events and festivals is an effective, high impact way of getting your message across to potential customers. In addition, because our deckchairs are made for the contract market, you can be sure that they will cope with high traffic use and can be used again and again. Why not have a look at some other examples in our Branded Deckchair section of our site?

---
21st April 2011
New Website Online
Following the success of our on-line shop, the Deckchair Boutique, last year, we have decided to place it at the heart of our newly designed site, providing a more streamlined shopping experience. We hope you find it quick and easy to find what you are looking for, at the very least - beautiful exterior furniture.
There will be more enhancements appearing over the coming weeks so it should become even more intuitive. We also have a couple of BIG announcements coming up shortly.